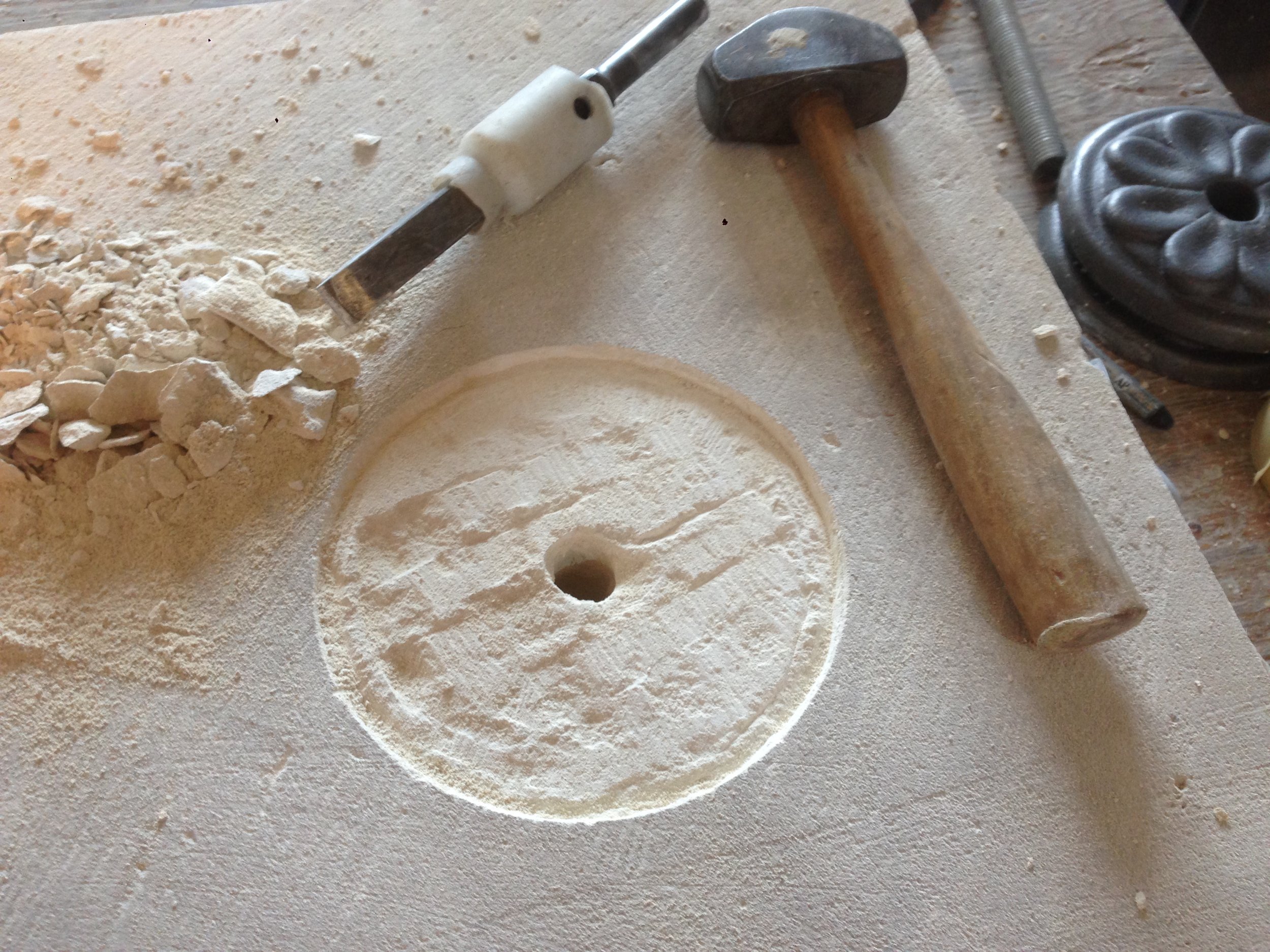 Here, we carved a recess in the stone to receive the cast iron rosette you see to the right of the carving hammer. Just a little detail that adds a little character to the project.
The rosettes were used as large washers with carriage bolts to hold the stone to the steel frame.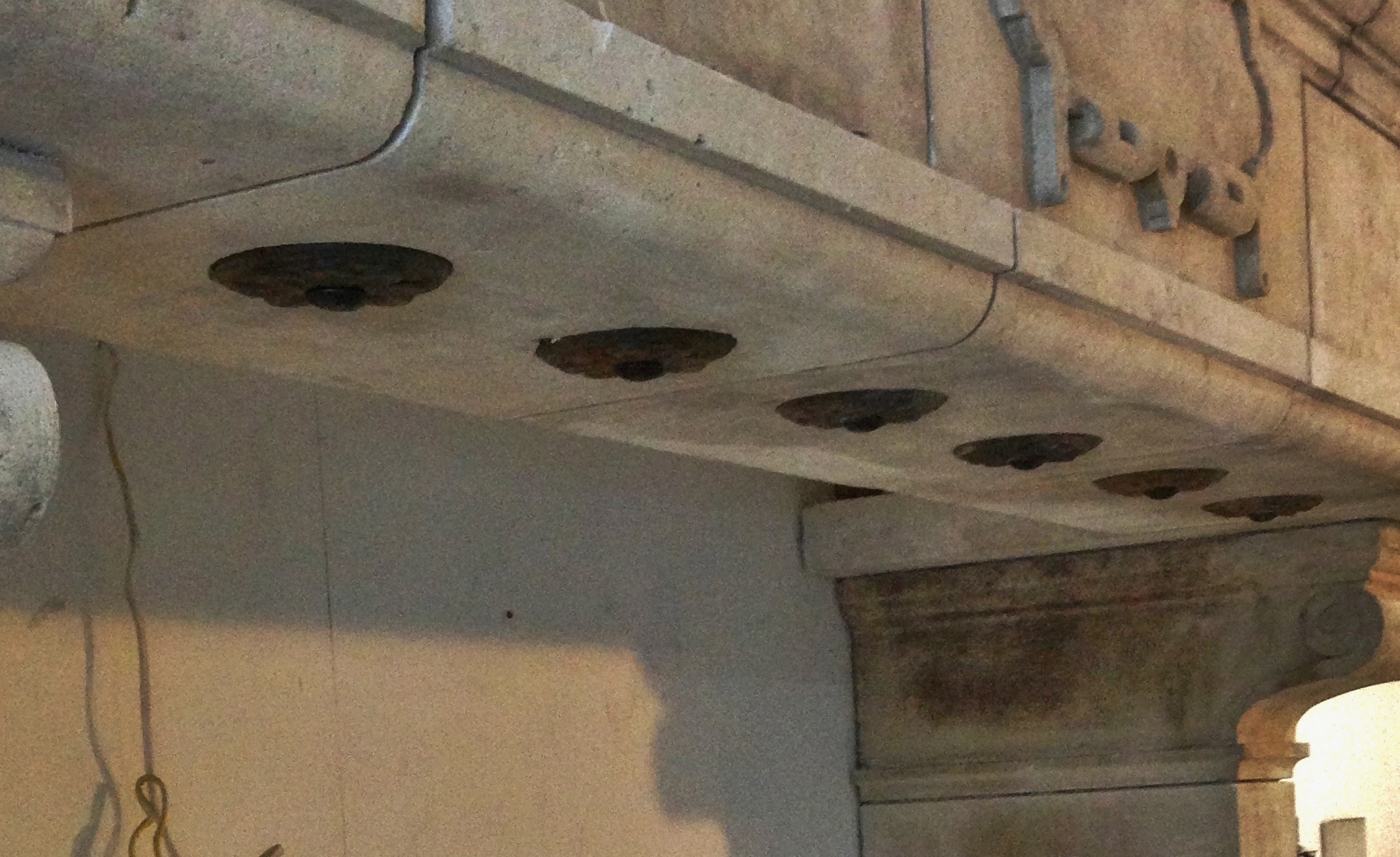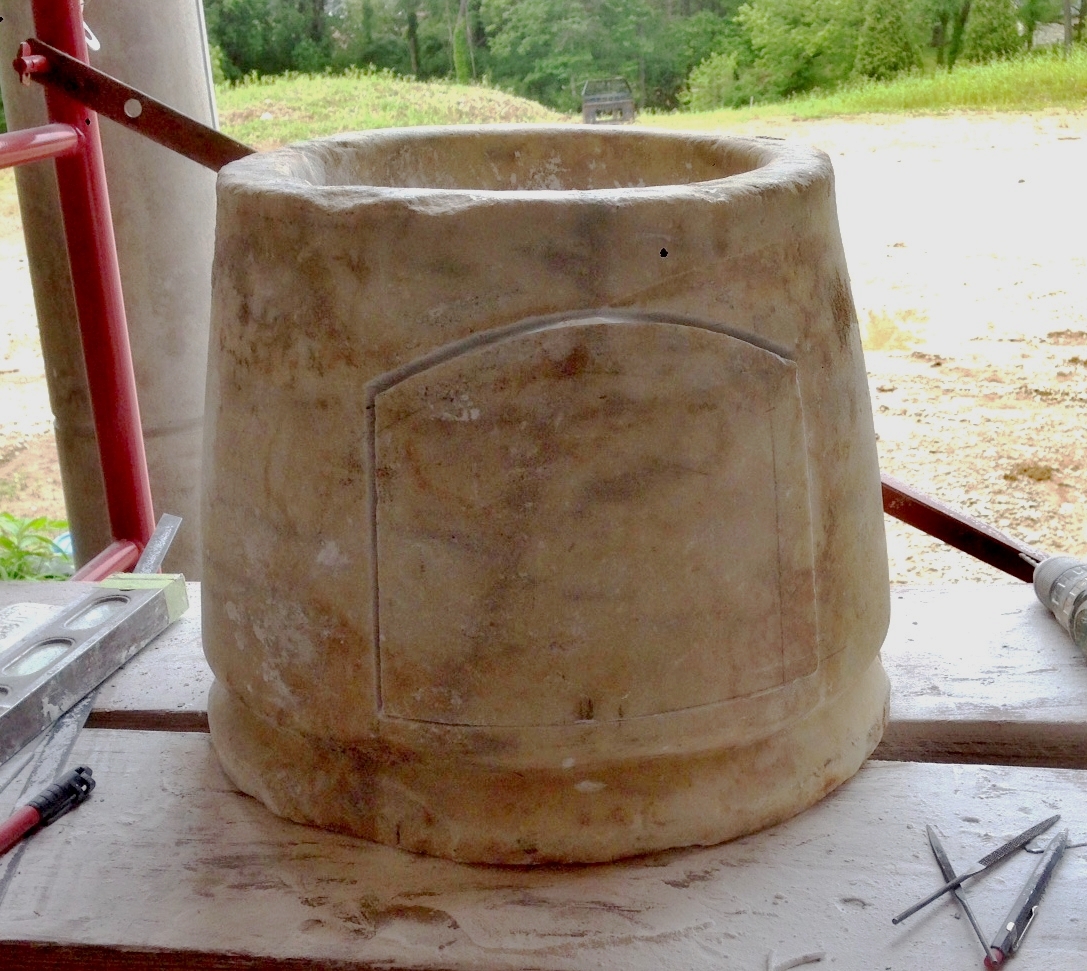 I hated to cut this antique fountain base but the customer wanted to hide the pump and all the plumbing. The base seemed to be the only hiding place but once the basin was sitting on top there would be no access to the valves and pump. So I cut a door into the side.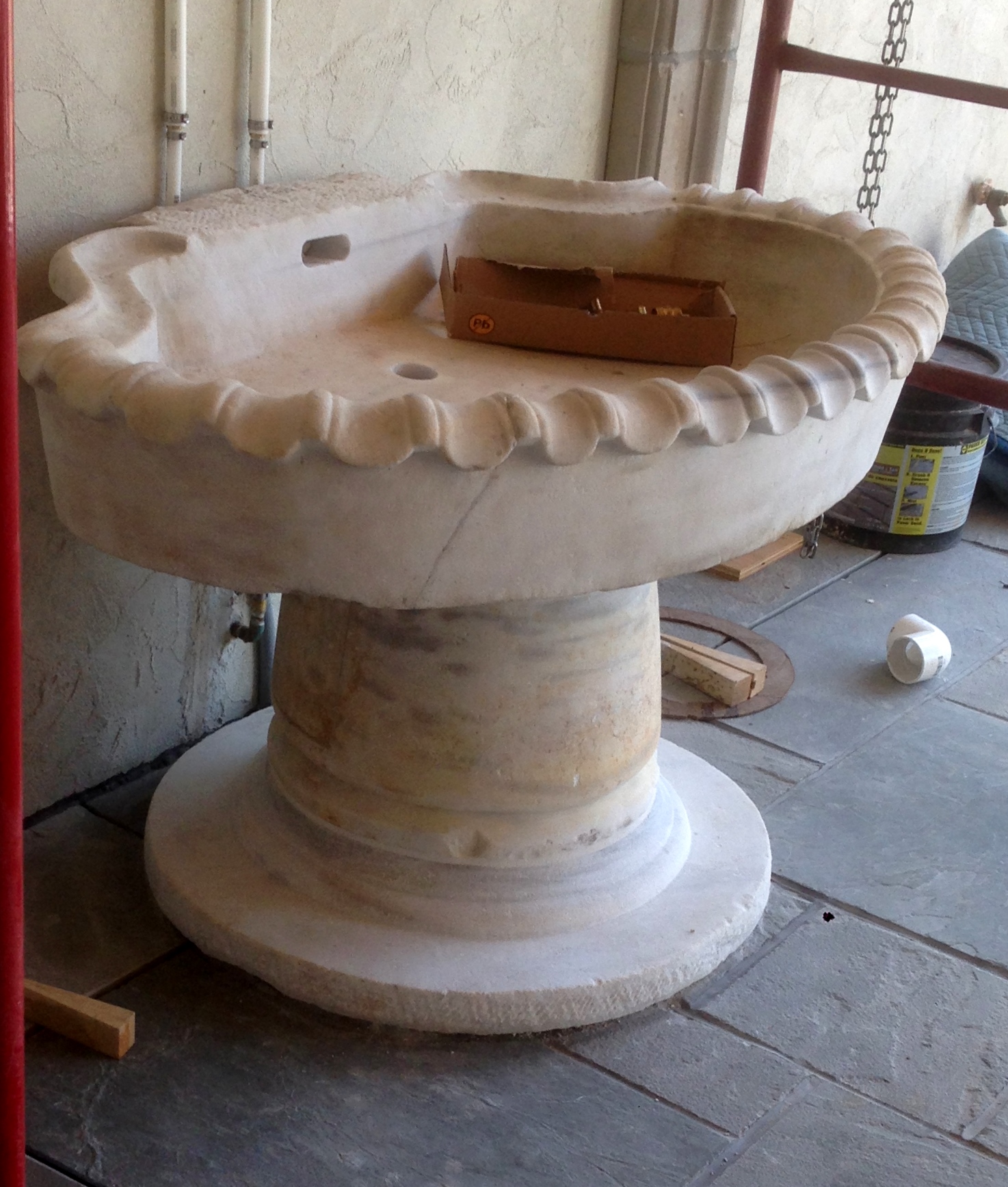 A peek inside the fountain base at the adjustable valves. Later a pump, filter and drain pipes were added.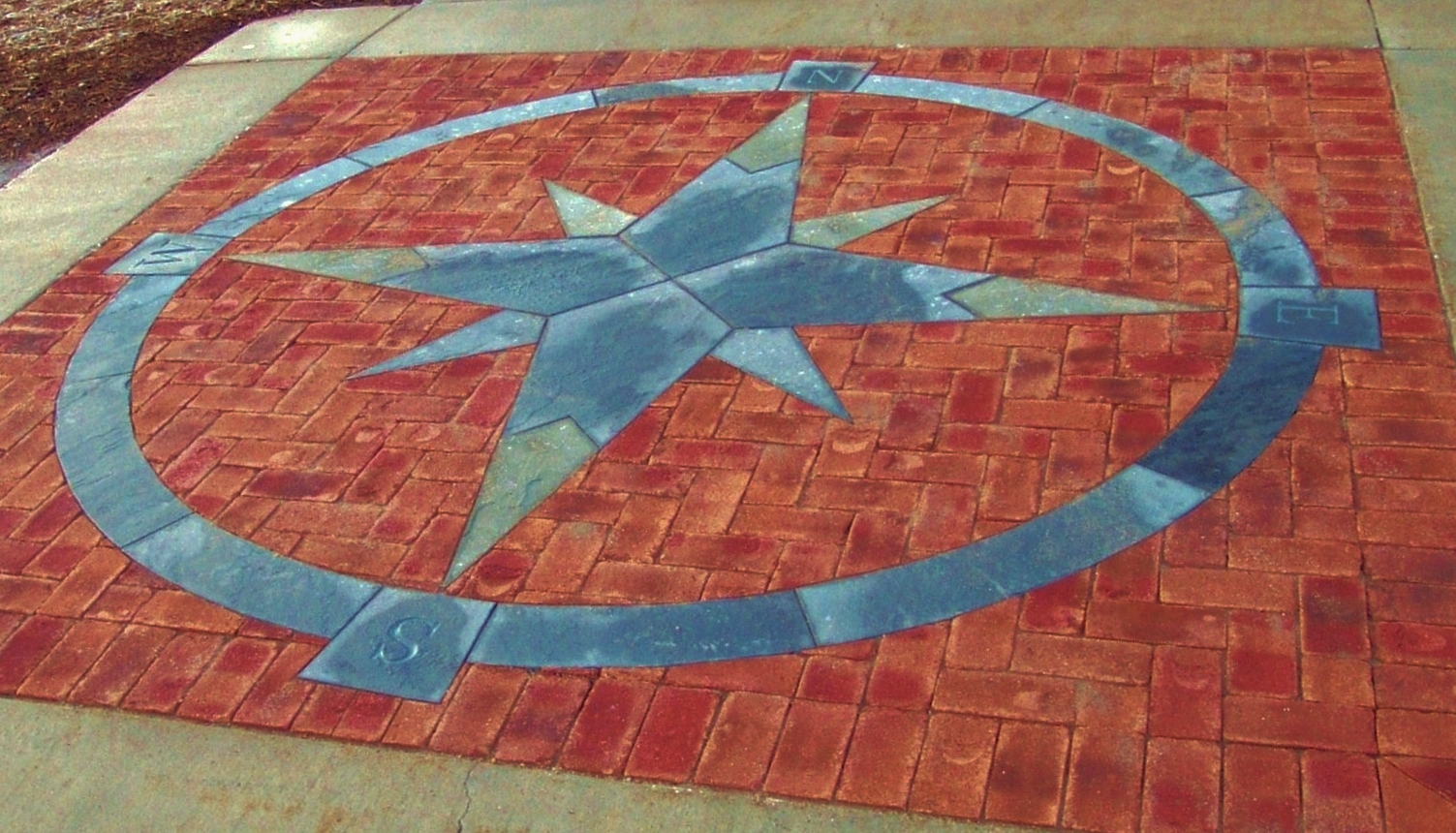 Bluestone Compass in a Brick Patio
The compass is pointing to true North.
Skylights in a Stone Arch over a Fountian
Every other stone was left out in the top of this stone arch to allow a little sunlight onto the fountain.
Lead Anchor in Coping (old)
The coping around an old patio had lead anchors at each joint. When I rebuilt the patio with new stone the customer requested we keep the detail of the lead anchors, It is a nice little detail that adds character to the project. (See next photo)
I really like the patina of the old sone and the aged joints but the rest of the patio was in real bad condition so it all had to go.
I really like the detail of the lead "bow tie" anchors tying all of the coping stones together. I have never seen this before. I hope to incorporate it into another project someday.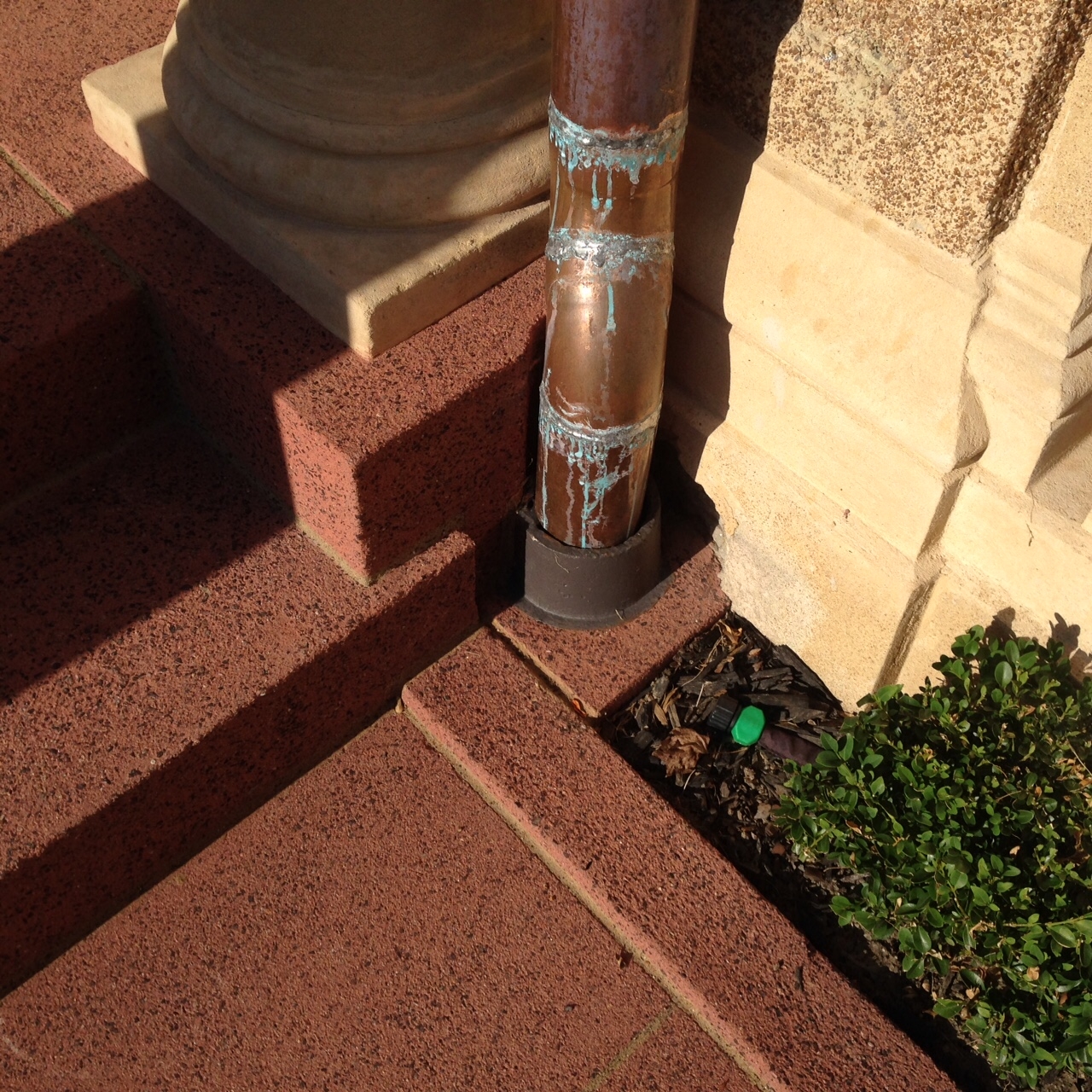 Concrete Fountain Base in a Fountain Pool
Concrete Fountain Base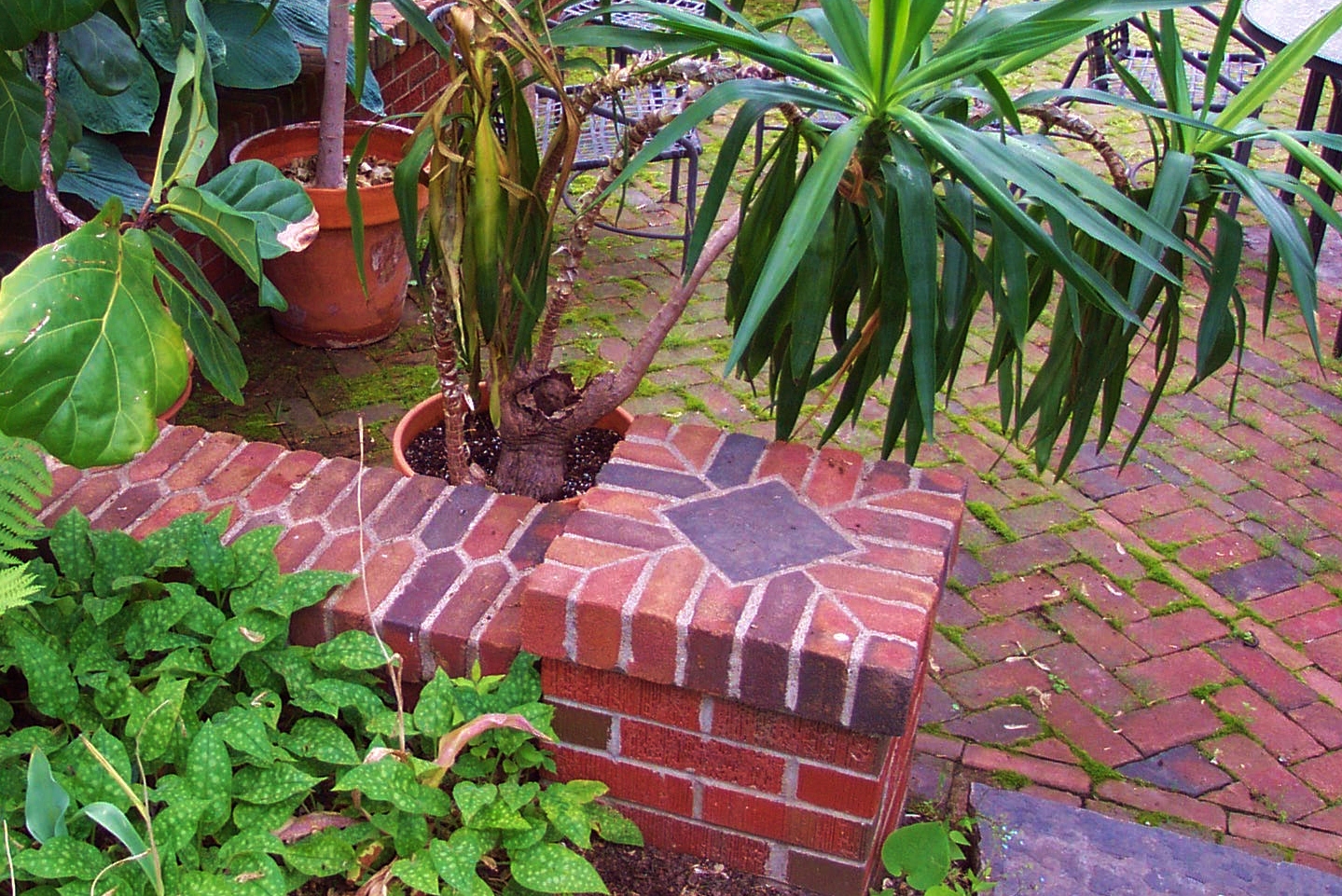 Brick and Stone Detail on a Terrace Sitting Wall
Limestone Corner Bench in a Sunken Garden
Layout for a Labrynth Path
Labrynth Path before the Lawn was Installed
Secret Tic Tac Toe Game in a Garden Wall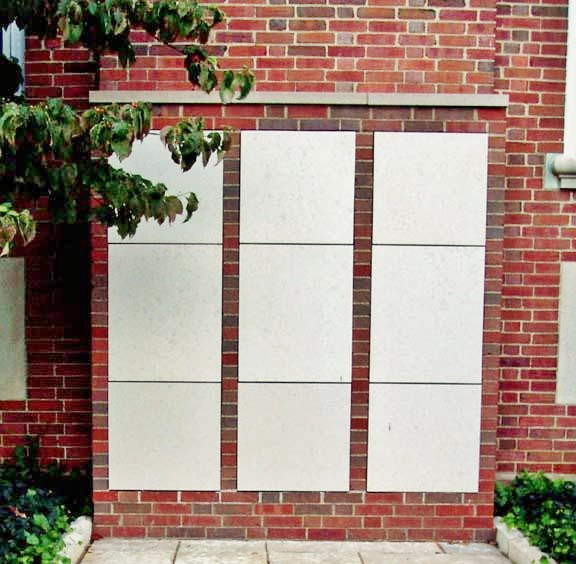 Stone Skimmer Cover
This swimming pool skimmer cover is made of the same stone as the patio, it practically dissapears into the patio itself.
Date of Construction Carved into Stone Bridge Coping
Date of Construction Carved Into Limestone Brick In Column of a Garden Wall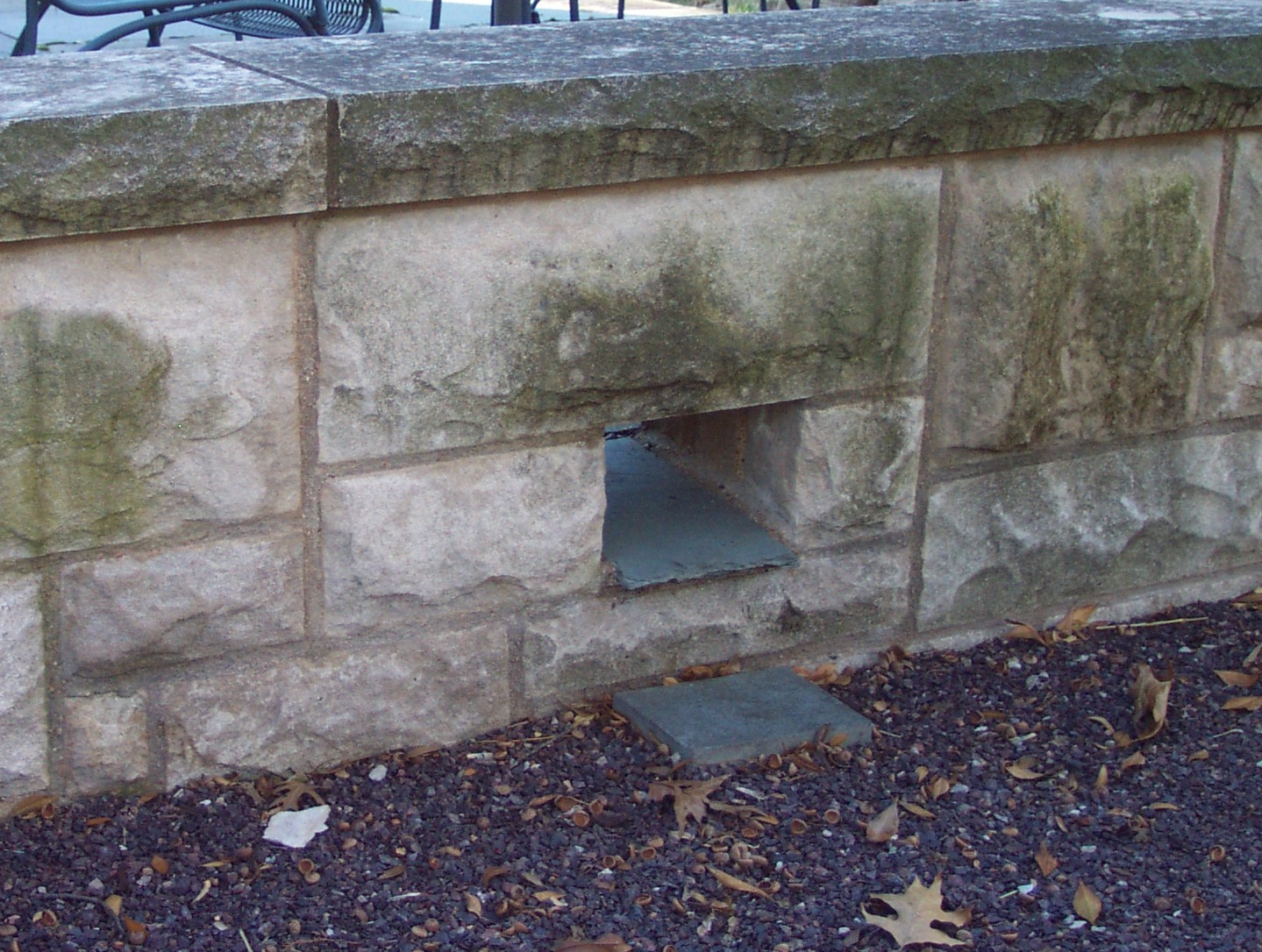 Slate Scupper Through a Limestone Sitting Wall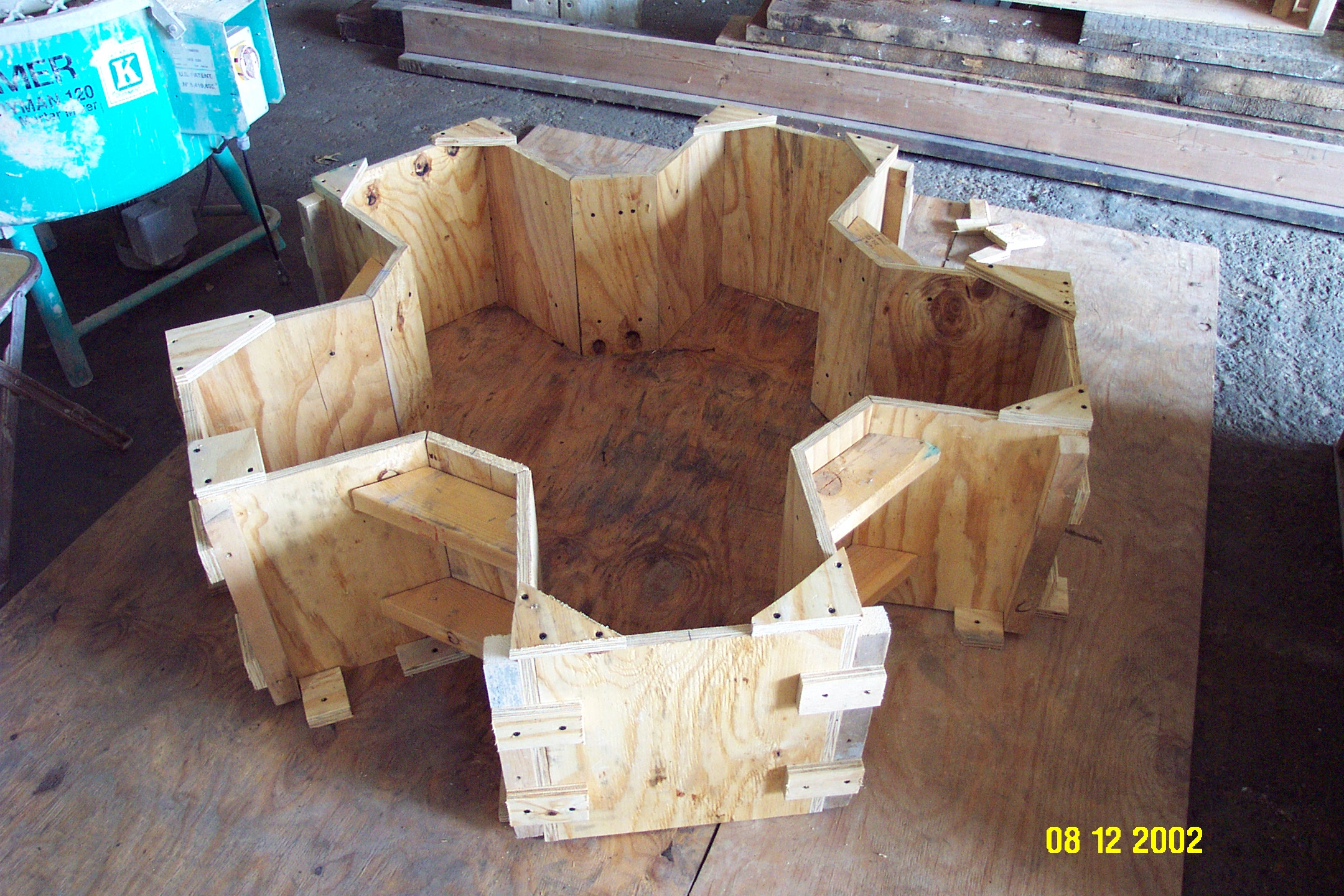 Form for a Concrete Fountain Base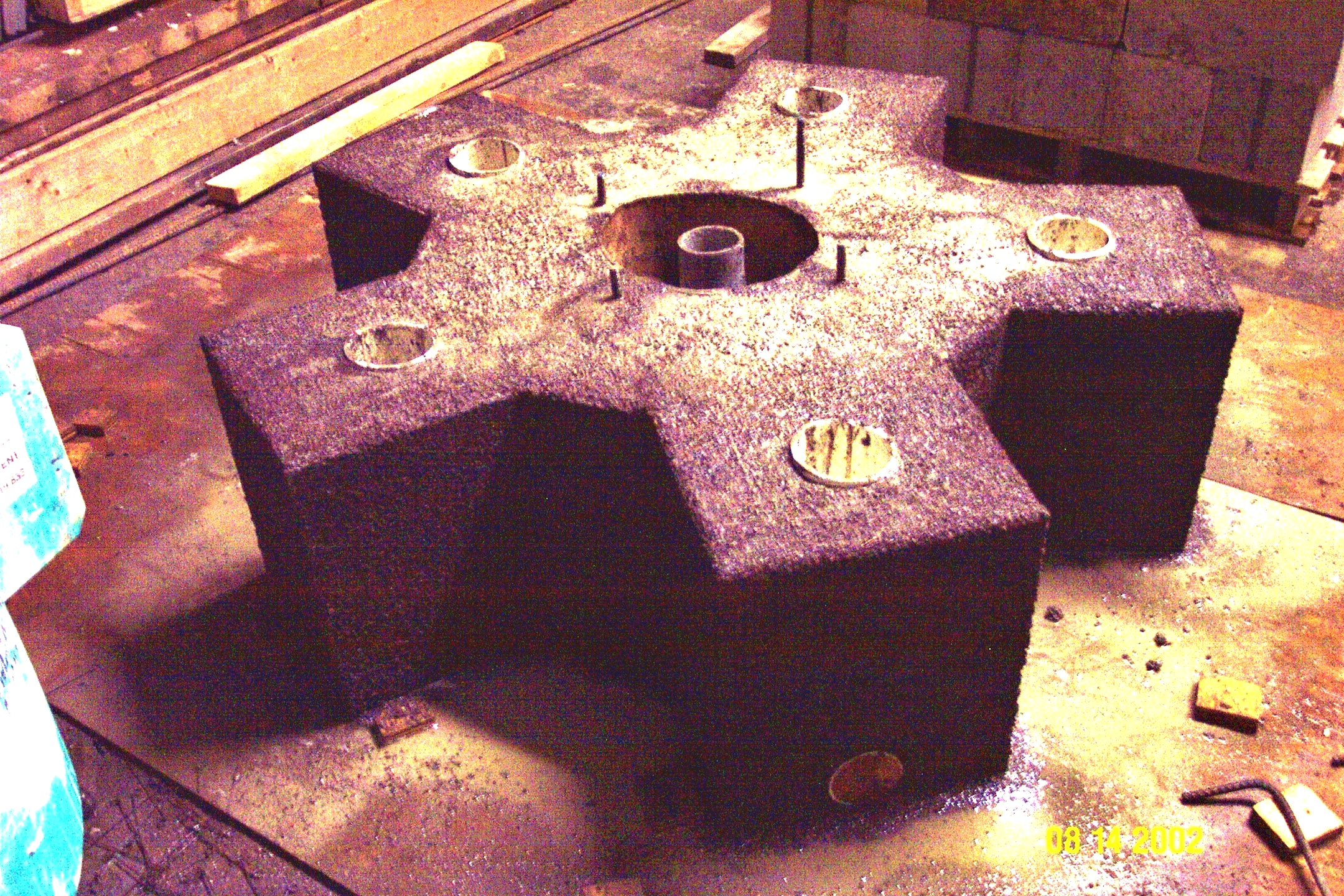 Concrete Fountain Base
This fountain base is made of concrete with black color and black "Trap Rock" it resembles weathered black granite. See next photo.
Weathered Black Granite Fountain Base
This concrete fountain base looks like weathered black granite and was made to be just a little larger than the feet of the fountain.
Rustic Stone Table and Benches
Pointed Stone Colmmn Cap on a Brick and Stone Entry Column
Swirley Post!
A voluted curb made from crushed red granite concrete.
Handprints in Red Granite
Amazing fossile, a childs handprint in granite.
Must be millions of years old!